MULTI-PROTECTIVE TECHNOLOGY meets SMART DESIGN
Little Hero® products feature Multi-Protective technology first used by fire fighters. The special fabric has been developed to meet crucial performance criteria in the NICU and industrial hospital laundering. It is extremely durable and retains its SMART appearance after multiple laundering.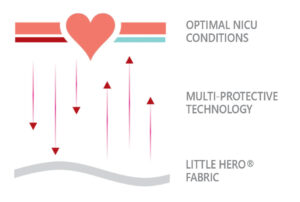 KEY FEATURES:
Suitable for industrial laundering
How can Little Hero make the difference?
Your ideas, our Expertise.
Our experience in the healthcare sector has allowed us to develop solutions to meet the healthcare requirements with the highest possible standards of hygiene, comfort and performance. We worked closely through the years with Europe's leading garment manufacturers and laundries, as well as hospitals and clinics, to understand their requirements and develop products which satisfy all their needs. Together we can turn your initial thoughts into reality, all the way through to production and delivery.
As a specialized producer of neonatal products, we draw a particular attention to your wishes to provide the most adequate product solutions. Little Hero uses fabrics designed to meet end users' special needs, such as extra protection, a specific look and feel and are engineered to sustain extensive industrial launderings. Working to your brief, or with you working alongside us at every step, we can create concepts that give you total flexibility. This means all aspects of the design, scale and colour can be adjusted – offering you the widest possible choice.